Victoria and Albert Ball
Saturday, October 21, 2017
7:00-10:00 pm
Holliston Town Hall
703 Washington Street, Holliston MA 01746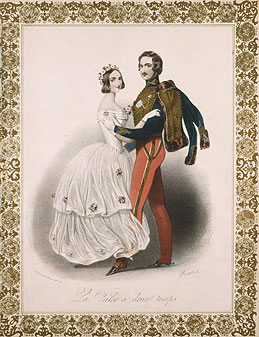 Join CVD in recreating a royal ball from Victoria and Albert's happy years together. Step into a mid-19th century palace for an evening of elegant dancing, delightful music, and delicious refreshments fit for a Queen!
All dancing during the event will be taught, with the exception of the first quadrille of the evening which will be performed by the Royal Court.
Suggested costume: Evening dress from the years of Victoria and Albert's marriage, 1840-1861, or modern evening dress. A black dress suit is appropriate for men, though a dress military uniform or court dress would be super-extra spiffy. A ball gown from the years 1840-1861 is appropriate for women, and extra jewelry and tiaras would take your ensemble to the next level. If you don't have period clothing, a dark suit for men or floofy long skirt for women will serve you very well.
Music will be provided by the Ad-Hoc Waltz and Quadrille Band.
Prompting by Barbara Menard Pugliese

$30 general/$25 student
$60 Royal Court (includes dance classes and performance)
FURTHER INFORMATION:
Royal Court Tickets:
For this event, we are offering a unique chance to be immersed in the 19th century! Royal Court tickets provide:
three dance classes in advance of the ball
announced entrance at the ball by our liveried master of ceremonies
a court sash and Royal Order medal to wear for the evening and take home as a souvenir from the event
the opportunity to perform a quadrille at the ball (learned in advance)
Royal Court ticket holders will attend three classes in advance of the ball on October 1, 8, 15 at our studio in Waltham, MA. During these classes, courtiers will learn some basic ballroom dancing. They will also learn and rehearse a complete quadrille with the support of dancers from CVD. At the ball, courtiers will perform the quadrille they have practiced to earn a Royal Order. Being a courtier is supposed to be fun. We hope that our courtiers will look forward to performing at the ball. If a courtier chooses to forgo the performance for any reason we will provide a substitute to dance in their place.
If you have questions about your Royal Court ticket, reach out to us at query@vintagedancers.org.