Saturday, June 25, 2016 from 1pm to 4 pm. $25/3 sessions  Reserve here!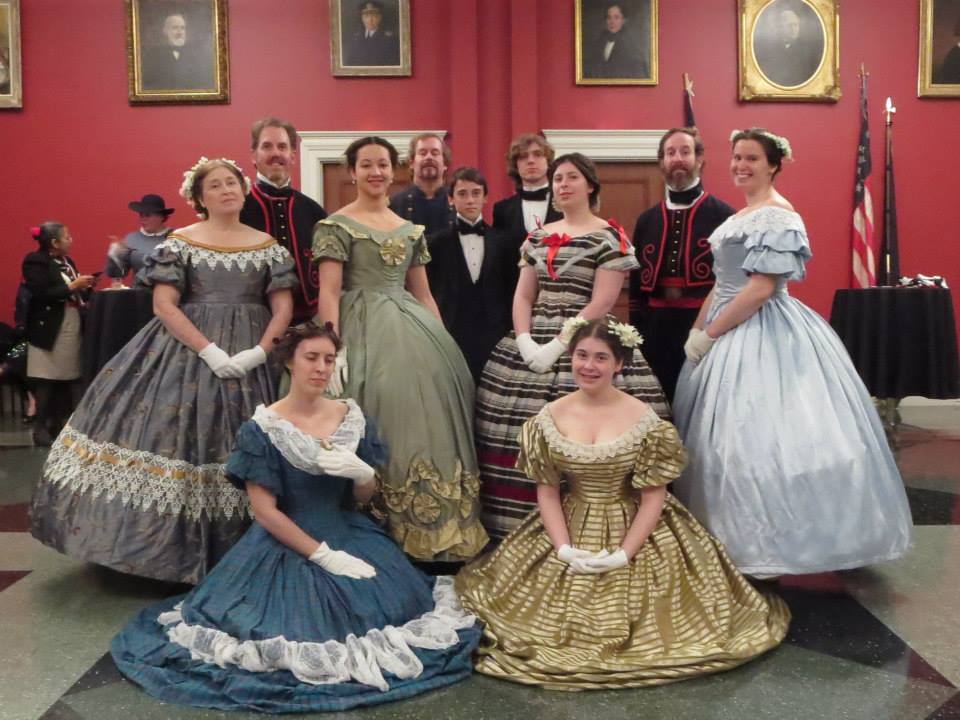 This is the first in a series of 3 one-day sessions that will help a beginner make a ballgown suitable for our most formal 1860s balls. These workshops are aimed at getting together the quickest and most inexpensive version of a ballgown for a beginner. More advanced seamstresses can make a more elaborate ballgown but will be doing extra work on their own.
Session I: Intro to Undergarments
Hoop Shaping Workshop – It's easy to buy a hoop, but it's harder to make it into a good shape for the mid-19th century. We'll show you how to reshape a modern set of bridal hoops, setting them to a good circumference for a ballgown. You can bring your own hoops to reshape if you have them, or we'll have sets available for purchase.
Corset Shopping – Looking for a corset too? If you're building a ballgown, you want it to fit well over a smooth foundation, so you'll need a corset first. We've invited a corset seller who has cheap corsets on hand, so you can try them on, and consider buying one to get started. Obviously, a more expensive corset will probably fit and last better, but we're just getting started here. If you want to sew your own corset, or buy from a better quality dressmaker, we can advise you about that.
Pattern Ordering- Not sure what ballgown pattern to use? We'll give you advice, and can help take measurements so you order the right size. We will be putting in a group order to Past Patterns, our favorite historical pattern company. If you want to order from somewhere else, that's fine. If you join in our order, we'll have your pattern waiting at Session II.
Q&A Session – On top of these activities, we'll be giving lots of advice about the undergarments you should wear with a ballgown, and how to make or get them. Got questions? Our panel of expert historical seamstresses will be able to help!
Our Email:
When

Saturday June 25, 2016 at 1:00 PM EDT
-to-
Saturday August 20, 2016 at 4:00 PM EDT

Where

Sewfisticated Fabrics

136 Howard Street
Framingham, MA 01702

1860s Ballgown Sewing Workshop

Saturday, June 25, 2016

Saturday, July 23, 2016

Saturday, August 20, 2016

Sewfisticated Fabrics

136 Howard Street

Framingham Center, MA 01702

Noon to 4:00 pm

Join us for a series of day-long sessions that will help a beginner make a ballgown suitable for our most formal 1860s balls. These workshops are aimed at getting together the quickest and most inexpensive version of a ballgown for a beginner. We're going use cheap underpinnings from China, good patterns with some shortcuts, and fairly inexpensive fabric. We will get the silhouette right, and use our knowledge of period sewing and fitting techniques to get the best effect for a reasonable amount of work. If you want a historically accurate and beautifully finished ballgown, you can accomplish that within the framework of our workshops but you will be putting in a lot of sweat equity outside of the sessions. If you are a beginner and start out strong, but find that the sewing is more than you can handle, we can advise you on finishing your outfit with a thrift-store blouse and a fabulous belt.

Session I: Intro to Undergarments

Saturday, June 25, 2016

Hoop Shaping Workshop

Corset Shopping

Putting together a Group Pattern Order

Q&A Session

Session II: Skirt-making Basics

Skirt Construction Workshop

Expert Fabric Shopping

Skirt Troubleshooting

Q&A Session

Session III: Bodice Fitting Workshop

Saturday, August 20, 2016

Bodice Fitting

Alternate Bodice Choices

Advice About Construction

Notes On Finishing

Q&A

Fee for three sessions: $25

This workshop also welcomes experienced seamstresses. You won't need to learn the basics that we're going to teach, but you can still come to work on your own projects in a friendly group.

We know that conflicts are likely to come up during the summer. If you have to miss a session, you will be able to catch up on much of what you missed.

The cost for all or some of the sessions is $25. If you can only get to one session, it will still be worth it. If you get to all three sessions, you will get a terrific bargain.

We're focusing on evening dress for women, but there is always room for the gentlemen. If you want to come along and work on your own project, we'd love to have you.

Sincerely,

Commonwealth Vintage Dancers