Regency Dance Weekend
Saturday, April 8 & Sunday, April 9, 2017
Saturday 10:00 am-4:00 pm Classes * Saturday 7:00 pm-10:00 pm Ball in Old Town Hall
Sunday 10:00 am-12:00 pm Minuet Class * Sunday 1:00 pm-4:00 pm Tea and Games
Sunday 6:00 pm-7:00 pm Reception * 7:00 pm-10:00 pm Grand Ball in Hamilton Hall
Old Town Hall, 20 Front Street, Salem, MA
Hamilton Hall, 9 Chestnut Street, Salem, MA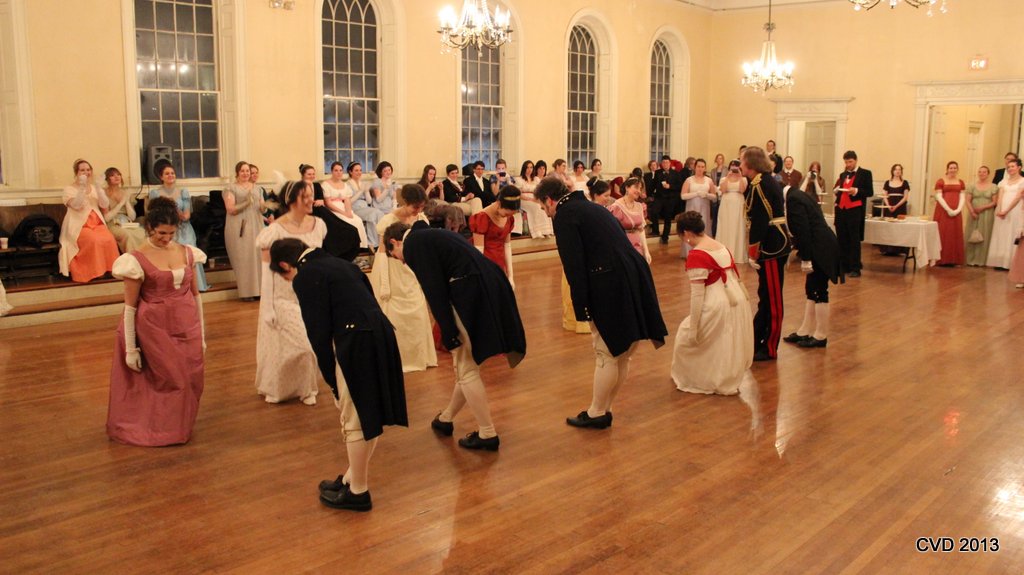 Advance registration is required
Weekend General Admission: $125
Weekend Student Admission: $95
Saturday Only Ticket: $70
Sunday Only Non-Dancing Ticket: $90
Join the Commonwealth Vintage Dancers for a weekend of time travel, and experience the Regency as never before. Dance like Jane Austen, party like Napoleon, or socialize like Dolley Madison. This intensive dance weekend, which takes place in that most noteworthy Federal town of Salem, MA, begins with a comprehensive set of Regency-dance classes that will have even a total novice racing around the ballroom in grand style. Saturday ends with a social dance, where the lessons of the day can be put to use. Sunday features a stand-alone dance class on simple choreographed minuet, followed by afternoon tea with games and entertainments, and ending with a Grand Ball with a sparkling cider reception and lavish refreshments. Whether you're a history buff, a fan of Jane Austen, a BBC-miniseries junkie, or just a romantic at heart, you won't want to miss this!
Choose your Experience!
This year we are offering single day packages for those who cannot attend the whole weekend. Here's what's included:
Whole Weekend Admission ($125, $95 for students):
Includes admission to all classes and events, including Saturday comprehensive Regency dance classes, Saturday night ball, Sunday morning minuet class, Sunday afternoon tea, and Sunday evening Grand Ball with reception.
Saturday Only ticket ($70):
Includes admission to all Saturday dance classes and the Saturday evening ball. This is the most comprehensive set of classes we offer to learn Regency dancing. Beginners can become expert in Regency dance, and experts can polish and hone their skills as they practice new and challenging dances with a variety of partners. The ball will be charming, with light refreshments and a lovely hall, and the quality of dancing will be very high. This is a great option for dance aficionados who cannot attend Sunday but want to learn a great deal and go to a lovely ball.
Sunday Only Non-Dancer ticket ($90):
Includes admission to all Sunday activities, including the minuet class, the afternoon's tea and games, and the Grand Ball with reception. Sunday-only guests, having missed the intensive classes on Saturday, will not be able to participate in all the dancing at the ball, but will be invited to dance the first few dances of the evening (including the minuet to open the ball, and a couple of old favorites like Sir Roger de Coverly). They will, however, have the unique opportunity of attending this incredible and immersive ball in the exquisite Hamilton Hall, where they may eat lavish refreshments, enjoy elegant tunes played by live musicians, watch lively dancing of a very high caliber uninterrupted by teaching, and swan about seeing and being seen. This is a great option for people who cannot attend Saturday but don't want to miss out on this unique experience, or those who will not wish to dance much but will enjoy observing.
Purchasing Tickets:
You can register online and pay with a credit card. If you do not wish to pay online you can call the number below and make arrangements to mail a check. Advance registration and payment is required by midnight on Thursday, April 6, 2017.
Classes:
The weekend will feature an intensive course of instruction in early nineteenth-century dance, taught by Antonia Pugliese, at the Salem Old Town Hall. No experience is necessary, and all steps and figures will be taught from the beginning. Learn the exciting steps that characterize Regency-period country dances and quadrilles, and learn a variety of figures from simple to complex. Then string these figures into dances, and practice them before they are done at the balls. There will be some basic waltz lessons with Regency styling, and also several simple figured waltzes that let you move to beautiful waltz music without having to worry about the difficulties of turning. Classes will be fairly intense and at a high level, but an absolute beginner who pays attention should do well, while advanced dancers will get to work on their style and stamina.
The Sunday minuet class will be a stand alone class that teaches the basic movements and style of the minuet, finishing up with a simple two-person choreography that will be danced at the Grand Ball. This iconic eighteenth-century dance survived into the Regency era as an opening dance to begin a ball, and that's how we'll use it!
Dances will not be taught at the evening balls (although there will be prompts for memory), so class attendance offers necessary preparation for anyone who plans to dance at these evening events. This is your chance to work intensely on a solid foundation in Regency-period dance.
Saturday Evening Soirée:
Practice the day's dance lessons in the social setting of our Saturday-evening soireé at the Old Town Hall (built in 1816-17). The evening will feature live music, cookies, and lots of opportunities to dance. This will be a great party for making friends and practicing dances in a social setting.
Sunday Afternoon Tea:
Join your friends from dance class, or make some new ones, at afternoon tea. We'll have tea and scones and other light refreshments, and there will be games and entertainments. Try a nineteenth-century card game, or put on a blindfold for blind man's buff! This leisurely afternoon will be a fun break from dancing.
Sunday Evening Grand Ball:
Attend the Grand Ball at Hamilton Hall, an exquisite 1805 hall with a sprung floor. Join us first for an hour-long reception to see and be seen, take photographs, sip sparkling cider, and watch a demonstration of a champagne bottle being opened with a saber! Then put on your dancing shoes for the opening minuet.
Put your new Regency-dance skills to good use, or take a break to nibble some Regency desserts or sip a cup of punch. Marvel at the dresses, listen to the beautiful music, and be part of the best party in the past 200 years!
FAQ
What is the dancing like?
The dancing is lots of fun! Regency dances range from calm and elegant figured waltzes to rousing athletic country dances. There are simple dances that anyone can do, but also spectacular opportunities for showing off. Some dances are done with a single partner (like the waltz), and others are done with a partner in a long line of dancers (as in country dances).
Our dances are reconstructed from period sources, and we strive for historical accuracy. This means that modern contra dancers or English country dancers will recognize familiar figures, and Scottish country dancers will notice similar steps, but there are also a lot of differences from any modern dance form. Previous dance experience will probably help you to pick things up quickly, but remember to keep an open mind for the differences that 200 years make. If you have no dance experience, this is the perfect event for you to get some! Either way, come to the classes and give it a try. Because the dancing is sometimes quite challenging, do not be discouraged if you do not learn everything or need to take extra breaks. There will be some easy dances for everyone, but there will also be great opportunities to push yourself to learn new and exciting dance material.
Do I need a partner?
No. Regency dancing is a fundamentally social activity. You are welcome to bring a partner, and many people enjoy our events the most if they have a group of friends to dance with, but there is no problem with attending solo and meeting new people. We cannot insist that people change partners—some people dance with only a single partner as a matter of comfort or because of medical concerns or injury. On the other hand, people usually learn best from dancing with lots of different dancers. The classes are designed to encourage partner changes, and we hope that mindset carries over to the balls. As a rule of thumb, do not be afraid to ask strangers to dance, but do not be offended if they decline.
Are children allowed?
Children who are able to display adult manners and follow directions are welcome to attend as participating members of the dance weekend, but should be accompanied by an adult. Children who are too young to participate in the event are discouraged from attending.
Can I just buy a ticket for the balls? Or can I just skip the classes?
Not quite, but this year you can buy a ticket for just one day! If you are available for the whole weekend we'd love to see you there, and if you do not wish to dance you may always decline and just attend the balls to watch and be part of the community, picking and choosing which events you attend. But if you just want to come to a particular event, the single-day tickets might be great for you. For example, a Sunday-only ticket means you can come to tea and play games, then go to the Grand Ball to enjoy the sparkling cider reception, refreshments, and great music (plus the morning minuet class and the first few dances of the evening, if you would like to fit in a little dancing). Dancing at the balls will be at a higher level than for a stand-alone ball, and the dances will not be taught (don't be worried about memory—you will get memory prompts, but not detailed teaching or a break-down). As a courtesy to the dancers who have worked very hard at the classes getting into peak Regency dancing condition, we can't let someone who needs to miss most of the dance classes attempt to do all the dances at the ball. But don't worry—the opening dances of the Grand Ball will be open to everyone, so if you have to miss the classes you will still get the experience of dancing, just in a more limited way.
Where should I stay?
Salem has several hotels of various price ranges in the area, and if you live sufficiently nearby you should be able to day-trip easily enough. There will be some limited changing space at the Old Town Hall and Hamilton Hall for people who are driving in but wish to change between classes and formal events.
Do I need a car?
No, depending on where you are staying. The Old Town Hall and Hamilton Hall are within easy walking distance from each other and from the Commuter Rail station.
What should I wear?
First of all, start with good comfortable shoes for dancing all weekend. Regency dancing is best done with flat or near-flat shoes (ballet slippers are a perfect option for women, and men should choose their most comfortable dress shoes or dedicated dance shoes). For your comfort and safety, leave the high heels at home, and don't dance barefoot..
For the formal events (namely the two balls and the afternoon tea), period Federal, Regency, or Napoleonic clothing is greatly admired but not required. Please, do not wear sneakers, shorts, jeans, T-shirts, or overly short skirts to any of the three formal events (these are fine for classes, although sneakers will not be safe to dance in). Many of our attendees are avid costumers who will leap at the opportunity to wear their best outfits, and will wish to prepare their grandest ballgown or suit for the Grand Ball on Sunday night, plus a second evening outfit for the Saturday dance, and day-wear for Sunday afternoon. Make sure to admire these people, but don't be intimidated by them. We also have attendees who have no historical clothing, and no one should feel at all nervous about attending the event because of this. Modern formal dress will also be appropriate, and with a little ingenuity you might throw together an outfit that looks similar to the era's clothes. If you are limited by clothing, it is completely acceptable to wear the same outfit for more than one event.
Where can I get an outfit?
We are constantly asked that question, but the answer is not easy. First of all, remember that period clothing is not required—if it is a question of showing up in nice modern clothes or not showing up at all, definitely come in modern clothes! That said, some people really prefer wearing Regency clothes and want help finding them. If you are interested in making a Regency outfit and have some sewing skills, there are many commercially available patterns (consider trying the museum-quality Past Patterns 1795 dress, but avoid Butterick's ahistorical and ill-fitting Regency pattern; there are many others out there, but we don't necessarily have personal experience with them). Stick to nice cotton or silk fabrics, and you'll come up with something nice. If you do not sew and would like to buy an outfit, there are usually many sellers on Etsy and eBay that make Regency clothing. Some of these are much higher quality and more accurate than others, but there is so much turnover in sellers that it is hard for us to make recommendations. Look at lots of pictures and original garments to educate your eye before you jump into something. If you aren't ready to make the commitment to dedicated clothing yet, consider hitting the thrift store and throwing together an outfit with the right silhouette.
Where can I change my clothing?
There will be some changing space at the Old Town Hall and at Hamilton Hall before the events. This may be quite crowded, so if you are staying nearby it is recommended that you travel to the events dressed. You are welcome to attend classes in historical dress, but most people do not wish to do this.
Can I take pictures?
Yes. You are welcome to take as many unobtrusive pictures of the event for personal use as you like. We love seeing pictures of our friends on Facebook! Please do not use flash or pursue photographs too vigorously (we have had people run across dance floors trying to get pictures, but this is dangerous and very obtrusive indeed).
If you are a professional photographer or have a particularly large camera set-up, please contact us about your wish to take pictures. We love high quality pictures, but we have to be extra careful about maintaining the immersive quality of the ballroom experience.
What if I have more questions?
Contact us! Write an email to Query@VintageDancers.org or leave a voice-mail at 781-350-3399, and we'll get back to you.