Returning Heroes Ball
Saturday, March 17, 2018
Dance Class – 3:00-5:00 pm * Ball – 7:00-10:00 pm

Holliston Town Hall, 703 Washington Street, Holliston, MA
$30 general/$20 student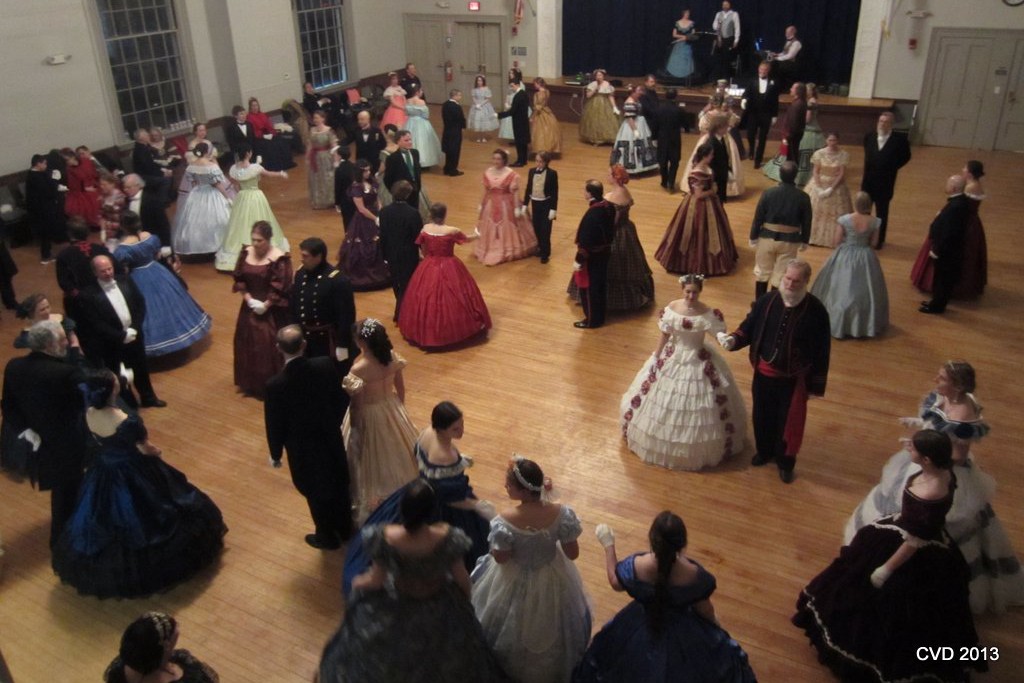 Music by Spare Parts


$30 general/$20 student
Free Dance Workshop at the Town Hall from 3:00 to 5:00 pm. Ball runs from 7:00 to 10:00 pm.
Music will be provided by the fine musicians of Spare Parts.
Dance calls and instruction by Barbara Menard Pugliese
Commemorate the end of the Civil War as soldiers on both sides of the conflict come together for an evening of authentic music, dance, and refreshment.
Enjoy an evening of contradances, quadrilles, waltzes and polkas taught and directed by Barbara Menard Pugliese. Attire of the 1860s, civilian or military, is required for this event. Dance cards will be distributed at the beginning of the ball. Note: Late arrival will limit the availability of prospective partners whose cards may already have been filled. The ballroom will open at 6:30 pm and dancing will start at 7:00 pm. The hall will be available at 6:00 pm for those who wish to change on site.
We are pleased to announce that the music will be provided by the fine musicians of Spare Parts.
The ball will be held in the auditorium of the Holliston Town Hall, a charming nineteenth-century hall built in 1857.
Civil War period dress is required for this event.
Gentlemen in the uniforms of both sides of that great conflict are welcome. Gentlemen in civilian dress should ideally be in full formal wear, consisting of black tailcoat (modern or period style), white or black vest and black trousers. Frock coats and cutaways are viable alternatives to tailcoats.
Hats should not be worn in the hall. White gloves should be worn throughout the evening, except when taking refreshments. Sidearms, sabers and spurs may not be worn in the hall, nor will there be a secure place to check them. Hobnails and heel plates must be covered by heavy tape or moleskin to protect the floors. Plain modern shoes are a preferable substitute.
Ladies should ideally be in ball or evening gowns of the style worn in the first half of the 1860s. Day dresses of the style worn in the 1860s are a fine alternative for ladies who have not yet acquired a ball gown. Ladies should wear comfortable dancing shoes with low or no heels. Wrist-length white gloves should be worn throughout the evening, except when taking refreshments.
Children should be dressed fittingly for the period, and are expected to display adult manners. Children are charged the student rate.
Changing space is somewhat limited at this hall. There will be a changing space for ladies, but, if at all possible, we encourage attendees to arrive fully dressed.
A description of Mr. March's homecoming from Little Women, by Louisa May Alcott.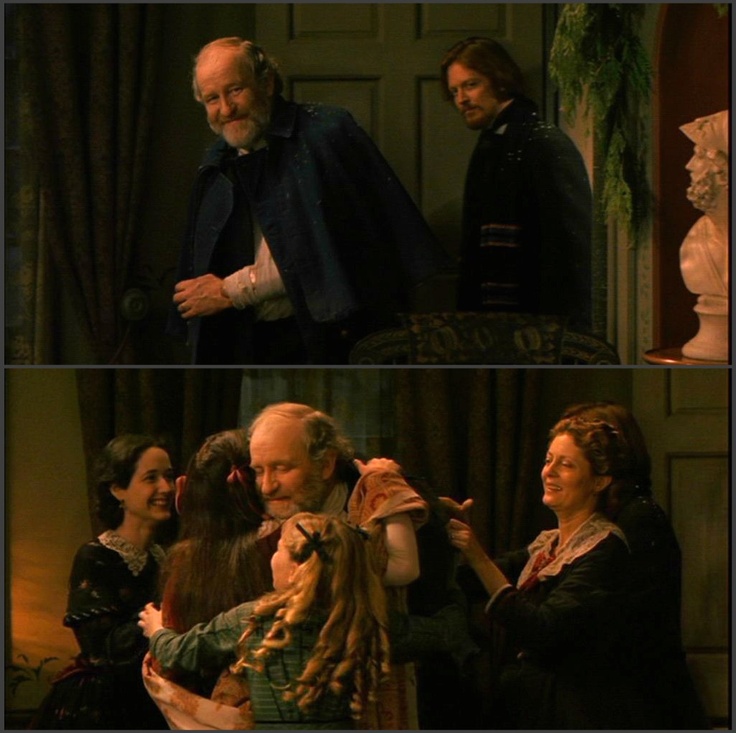 Laurie opened the parlor door and popped his head in very quietly. He might just as well have turned a somersault and uttered an Indian war whoop, for his face was so full of suppressed excitement and his voice so treacherously joyful that everyone jumped up, though he only said, in a queer, breathless voice, "Here's another Christmas present for the March family."
Before the words were well out of his mouth, he was whisked away somehow, and in his place appeared a tall man, muffled up to the eyes, leaning on the arm of another tall man, who tried to say something and couldn't. Of course there was a general stampede, and for several minutes everybody seemed to lose their wits, for the strangest things were done, and no one said a word.
Mr. March became invisible in the embrace of four pairs of loving arms. Jo disgraced herself by nearly fainting away, and had to be doctored by Laurie in the china closet. Mr. Brooke kissed Meg entirely by mistake, as he somewhat incoherently explained. And Amy, the dignified, tumbled over a stool, and never stopping to get up, hugged and cried over her father's boots in the most touching manner. Mrs. March was the first to recover herself, and held up her hand with a warning, "Hush! Remember Beth."
But it was too late. The study door flew open, the little red wrapper appeared on the threshold, joy put strength into the feeble limbs, and Beth ran straight into her father's arms. Never mind what happened just after that, for the full hearts overflowed, washing away the bitterness of the past and leaving only the sweetness of the present. (Louisa May Alcott, Little Women)